Friday November 23, 2018, CrossFit Stapleton – Denver, CO
HOLIDAY PARTY ALERT!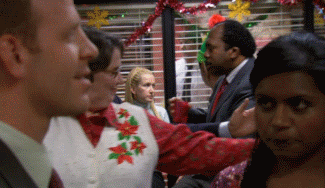 MARK YOUR CALENDARS – DECEMBER 8TH (6-8PM)
Please join us this holiday season AT THE GYM for our FIRST EVER Holiday Potluck!
CFS will provide the PROTEIN and YOU will provide your BEST Appetizer, Side Dish, OR Dessert. We will be releasing a sign-up sheet as we get closer to the event.
Music – Drinks – FESTIVE SWEATERS – Games – AMAZING FOOD – Family Fun!
MARK THIS DOWN ASAP:
DECEMBER 8TH
6-8PM
NO NEED FOR A BABYSITTER… KIDS ARE WELCOME AND ENCOURAGED!!!!  We will have the bootcamp room prepped and ready for the kids (games / movies / etc).
CROSSFIT CLASSES: 
6AM & 9:30AM ONLY !! 
'BOOTCAMP DAY' – Performance / Fitness-
A. In teams of two, alternating movements, complete as many rounds and reps as possible in 30 minutes of:
20 Calories of Assault Bike or Concept 2 Bike Erg
20 Dumbbell Thrusters (55/35 lb DBs)
20 Dumbbell Box Step-Overs (55/35 lbs to 24″/20″ Box)
20 Pull-Ups
20 Box Jumps (24″/20″)
Partners will alternate movements, so Partner A performs 20 Calories of biking, Partner B performs Thrusters, Partner A performs Step-Overs…and so on.
———————————————————————————————————————
BOOTCAMP RX CLASS:
A. 4 Rounds:
20m Single Arm Overhead Walking Lunge (10R/10L)
20m Heavy Reverse Sled Drag
– 3 Rounds
B. 3 Rounds: 
10/side Up Right Row
8 Bent Over Row
:30 Second Handstand Hold
C. 3 Rounds (80-90% Effort):
AMRAP 3 – 
5 Burpee
5 DB Snatch
– Rest 1
AMRAP 3 – 
5 Burpee
5 DB Clean and jerk (2 DB)
– Rest 1