Thursday November 15, 2018, CrossFit Stapleton – Denver, CO
Free Recipe of the Week!!!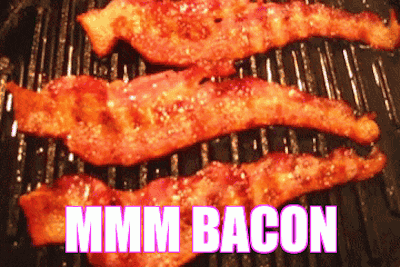 BLT Cauli-Rice Bowl
Ingredients:
1 head cauliflower (greens removed/quartered/cored/grated)
2 cloves garlic (peeled & minced)
1# bacon (chopped into 1⁄2" strips)
4 large eggs
3T EVOO
1/2# baby spinach (rough chopped)
salt/pepper
2 large beefsteak tomatoes (diced)
2 avocados (peeled & thinly sliced)
Directions:
1. Start by making the cauliflower rice – Place your grated cauliflower in a bowl (lined with paper towels) and press a few more sheets of paper towels aggressively over the top of the cauliflower to remove any excess moisture – remove all paper towels – and boom…cauli-rice! Set aside for later.
2. In a large cast-iron skillet over medium heat, cook bacon until brown and crisp – about 5-7 minutes.
3. Transfer bacon to a paper towel-lined plate – leave the bacon fat in the pan!
4. Add garlic to the hot pan and cook until it JUST starts to brown – quickly add in the
cauliflower and spinach, season with a bit of salt and pepper and cook until spinach has
wilted and cauliflower rice is dry. Remove from heat.
5. Assemble BLT bowl: To each bowl, add a heaping spoonful of spinach-garlic cauliflower
rice, crispy bacon, diced tomatoes, avocado slices, a dollp of spicy mayo (see recipe for
this above!) and a freshly fried egg!
6. Enjoy!
CROSSFIT CLASSES: 
Performance- 
A. Every 2 minutes, for 30 minutes (3 sets of each):
Station 1 – 400/300 Meter Row
Station 2 – 30 Ring Dips
Station 3 – 30/20 Calories of Assault Bike
Station 4 – 30 Toes to Bar
Station 5 – 10 Renegade Rows (55/35#) 
(Push-Up, Row Left, Push-Up, Row Right = 1 rep)
———————————————————————————————————————
Fitness-
A. Every 2 minutes, for 30 minutes (3 sets of each):
Station 1 – 300 Meter Row
Station 2 – 20 Bar Dips (OR Box Dips OR Push-Ups) 
Station 3 – 20 Calories of Assault Bike
Station 4 – 20 Knees to Chest 
Station 5 – 10 Renegade Rows  (Push-Up, Row Left, Push-Up, Row Right = 1 rep)
———————————————————————————————————————
Bumper's Club – TBD
———————————————————————————————————————
BOOTCAMP RX CLASS:
A. 4 Rounds:
A1. 6/side Half Kneeling KB Press @ 21X2
A2. 10 Banded Lat Pulldown (1band per arm) 
A3. 20 second Pull Up Hold/Chest to ring hold 
B. 3 Rounds:
10 Skull Crushers 
5 KB Press into Push Press (10 reps overhead total) 
30 Russian Twists 
C. 10 Min EMOM:
Even: 11 American KBS
Odd: 30 Double Unders
Rest 3
D. 10 Min EMOM:
Even: 10 Dumbbell Power Cleans
Odd:  10 Toes to Bar